Once Upon a Story bloghop 2019
Hooray! It's on again: we are in the midst of the 2019 rowalong bloghop. The theme for this year is nursery rhymes and fairy tales. I'm definitely doing nursery rhymes, although fairy tales are tempting. My row is really "Little boy blue" combined with "baa baa black sheep", or in this case, multicoloured sheep.
Instead of doing long rows, we have a fabulous plan to put together odd shaped blocks to make a wonderful quilt. The block sizes are 30 x 30, 12 x 30 and 30 x 12, 9 x 18 and 18 x 9 and they can be mixed and matched in any way.
This gives plenty of opportunity for mixing and matching and playing around with blocks.
My main trouble was narrowing down which nursery rhyme I wanted to do. When I started thinking about it, I have so many favourites, and when I thought about it, nursery rhymes are appealing because they have strong rhythms and rhymes and this is a lot of the appeal. I think they teach children a lot about language without even trying. So, back to my dilemma: Little Jack Horner, Little boy blue, Little Miss Muffet, Little Bo Peep? Or: Three little monkeys, Three blind mice, Three little kittens? So many decisions. I eliminated Little Miss Muffet because I don't think we should teach children to be afraid of spiders; Little Jack Horner was a bit delusional and the three little kittens needed a 'can do' attitude; Little Bo Peep appears to be promoting an irresponsible attitude to farming, and three blind mice is into animal cruelty. 'Ride a cock horse' is about human sacrifice. So, not an easy decision.
As a child I always enjoyed the rhymes so I went with a couple with good rhymes and then the whole thing just got out of hand and I ended up with about 9 rhymes in one block: Little boy blue, Three blind mice (yes, I know, animal cruelty), The wise old owl, Dr Foster, The man in the moon, Tom, Tom the piper's son, Baa baa black sheep (or multicoloured sheep), then I added Hey diddle diddle, As I was going to St Ives, Grey goose and gander, and Pease porridge hot. So I ended up with a plan way more than I'd intended:
OK, way too complicated, but so much fun. I then found lots of people don't know my favourite rhymes, which is a bit sad. The figure in the middle is 'the man in the moon' and the rhyme goes like this:
The man in the moon came down to soon and asked the way to Norwich,
He went to the south and burnt his mouth on a plate of cold pease porridge.
This of course leads to the Grey Goose Inn which is selling Pease Porridge (hot, cold and nine days old) , and has a bit of trouble with livestock:
Grey goose and gander, whither do you wander? Upstairs and downstairs and in my master's chamber.
The Inn also has woolsacks leading to Baa baa black sheep, and hence to Little boy blue. I thought this would make a good block on its own.
Then because I had to have a signpost going to Norwich I had to put in Dr Foster. If you don't know him, he was having a particularly bad day:
Dr Foster went to Gloucester in a shower of rain.
He stepped in a puddle right up to his middle, and never went there again.
This would make a good vertical block.
Then I added more to the signpost…. There are lots of verses to Tom, Tom the piper's son, but the verse I like is:
Tom, Tom the Piper's son learnt to play when he was young,
but the only tune that he could play was 'Over the hills and far away'
I also added St Ives to the signpost, even though I haven't done the people for this yet… but I want to. I think everyone knows this riddle, but I'm going to write it out anyway:
As I was going to St Ives, I met a man with seven wives. The seven wives had seven sacks, the seven sacks had seven cats, the seven cats had seven kits. Kits, cats, sacks and wives, how many going to St Ives.?
The answer of course is 1, because the speaker is going to St Ives, but the man with seven wives is coming from St Ives, but wouldn't it make a great block? I can see all the wives in my head.
The wise old owl is a moral rhyme, but it's still good life advice, and I like owls.
The wise old owl sat in an oak, the more he heard the less he spoke.
The less he spoke, the more he heard. Why can't we be like that wise old bird?
The mice are just too cute and would make a great small block. My mice have both eyes and tails, and are staying that way. I have no marauding farmer's wife.
Then I added the cow jumping over the moon, just because. And I added a garden to the Inn for 'Mary, Mary'.
Then I went on holiday, pattern done but not sewn up.
Well I came back with massive amounts of catch up to do and I was worried I wouldn't get the whole pattern made. I also bought the apliquick tools at the Brmingham Festival of Quilts and I wanted to try them out. So I made the baa baa black sheep block with turned appliqué, (which I hate), but I must say, the tools made it easier. Here is the 30 x 12 inch block made up with turned appliqué:
Here are the tools. I haven't tried everything yet, but the scissors are awesome and I love the chopstick tools for turning over the edges. I'll do a blog on them when I feel confident I'm using them correctly.
Once again we have been lucky to be supported by Northcott with lovely fabric. I chose to get greens to help me with the hills, and I do love their selections. They are strictly to die for. You can see how perfect they are for creating the effect of hills gradually diminishing into the distance.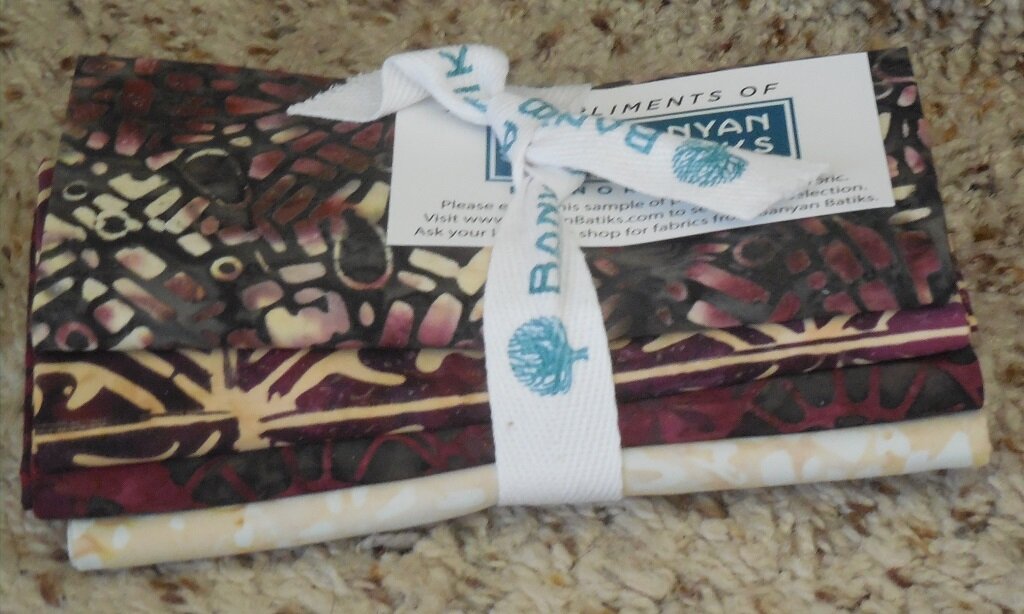 And now for the fabulous sponsors. We are so lucky with all the great giveaways we have been given. My giveaway is beautiful batik fabric from Northcott . It's perfect fabric for adding to your stash and increasing your palette of fabrics, and I just love batiks for raw edge appliqué because they don't fray. The lucky winner will get 1 Northcott Fat Quarter Bundle of 4 FQs worth $20 (USD). Northcott will ship worldwide, but the cost of shipping is paid by the winner. Please check the tab at the top of the page for the giveaway rules. Make sure you leave a comment to be eligible for the giveaway!
Here are the pattern downloads. Little boy blue is the download for the rowalong and is free. The nursery rhyme medley - 'Over the hills and far away ' runs to about 50 pages of templates and I've included a printable label and printable signs, and that one has a small cost. If you need it in A4 rather than letter, there is an A4 version in the pattern store. I hope you enjoy all the patterns and have fun making some fabulous and fun quilts. PLEASE click on the picture to download.
And another fabulous giveaway from Electric Quilt. I use EQ8 for all my patterns and I just love it. It's really great software.