My Happy Place
The theme for this year's rowalong is 'My Happy Place'. This is a lovely theme and I think we are all going to be able to make some delightful quilts as we choose our rows to make. My happy place is a Sunday afternoon on a sunny day with a bit of hand sewing and a cuppa. I look out over the border ranges and a little bit of peace fills my heart.
Our camellias come out in May in time for Mothers' Day, then they flower all winter. I love their ice pink perfection and always have a bowl of camellias on the table while they are in flower.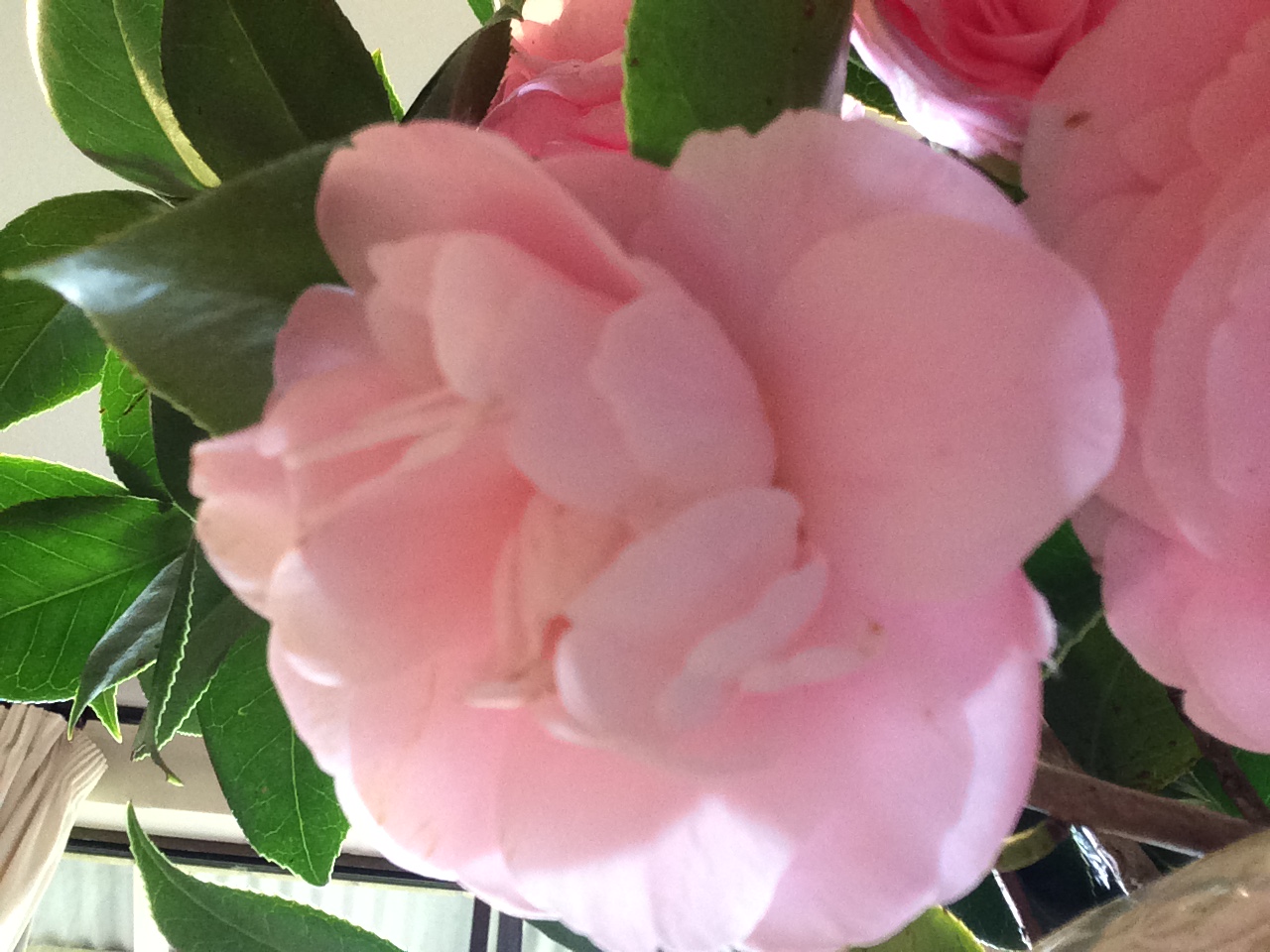 shades of ice pink against the dark green leaves
A bowl of roses is also a favourite as it fills the house with scent. I've made flowers inspired by Art Deco McKenzie roses. Mine could be roses or camellias. I used Ombre by Vanessa Christianson of V and Co for Moda fabrics to get the shades of pink.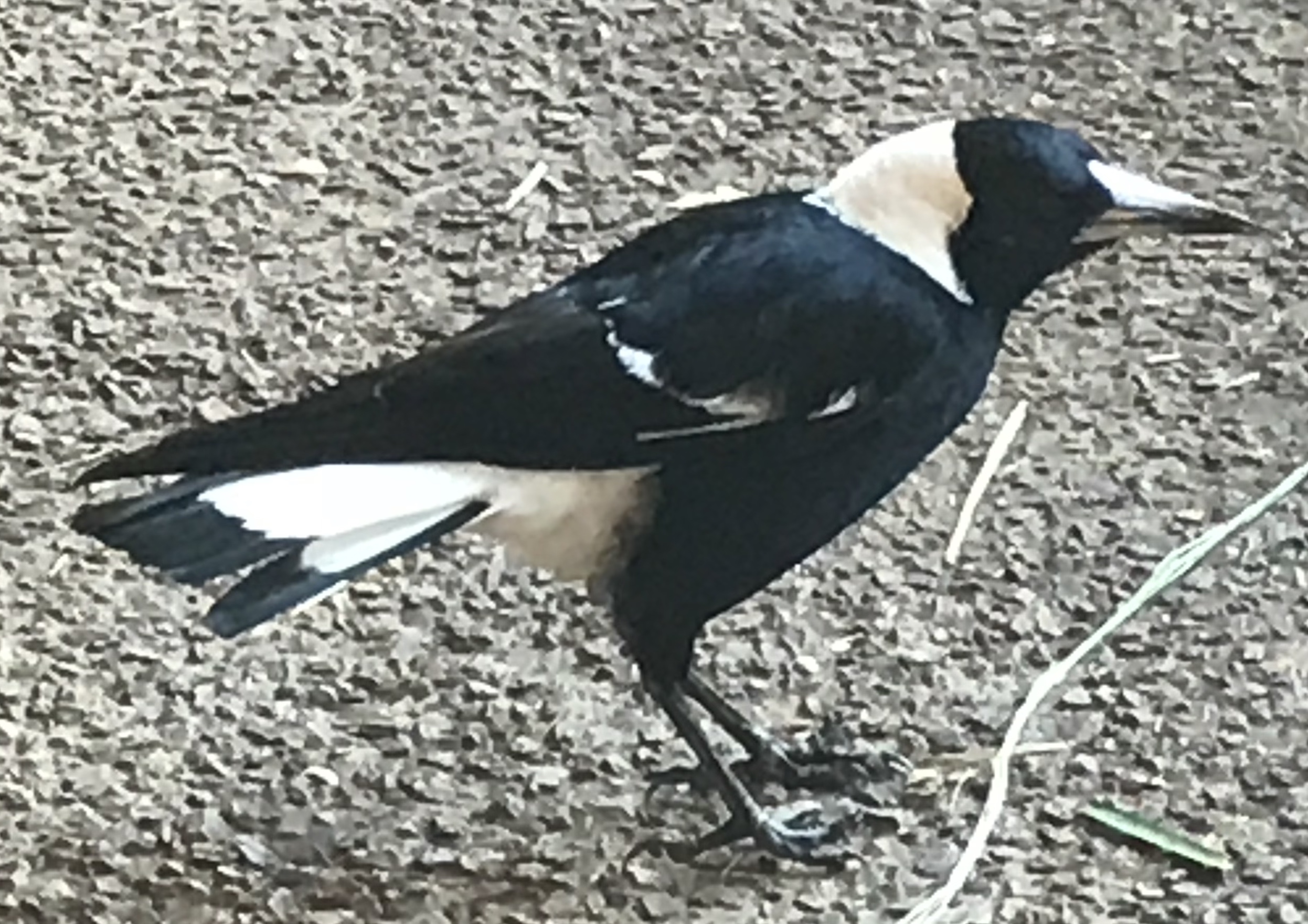 style, attitude, a musical call and a very smart black and white look.
What's not to like? Oh yeah.... swooping.
I think everyone enjoys birds visiting the garden. It seems like such an act of both trust when they just keep on with their day regardless of what you are doing. The Australian magpies are particularly great characters. They patrol the lawn looking very official in their black and white, like a police line searching for clues, although I think they are checking for insects. They have a particularly musical call. The New Zealand poet Denis Glover described it as 'Quardle oodle ardle wardle doodle', and this is how they sound.
They have considerable style. They are also well known for swooping passersby in nesting season. Basically if they have always had good experiences from humans they will act accordingly. If, however, they have had one negative experience, they will never forget and will teach their children. So, it pays to butter them up. If you see Australians cycling with bike helmets covered in little sticks, it is because a swooping magpie lives close.
I've used a variety of techniques to make this block. The hills are paper pieced, as are the flowers. The applique is needle turn for the big pieces and fusible for the very small pieces like the scissors and the flying magpie. I used templates to cut the window frame, because the angles are all different, but I like the way they give dimension to the window ledge.
Northcott fabrics has once again been very generous in supplying fabric, and I've used their fabric for the sky and fields. The sky fabric is fabulous. Those clouds look so real and perfect for what I wanted. I used the grass fabric in the middle distance and quilted over the darker green patches to make lines of trees. I really loved the other two fabrics, I intended the blue for the mountains and the woodgrain for the windowframe, but beautiful though they are, I ended up with different fabrics.
Don't forget to check the schedule every Tuesday and Thursday. There are fabulous giveaways on every blog and of course the pattern downloads. Patterns are free for one week after the scheduled date. Please drop me a comment if you like my row, It will be much appreciated.
Tuesday September 4, 2018
The Quilt Rambler | Duck Creek Mountain Quilting | Cheryl LaPlante
| Patti's Patchwork
Thursday September 6, 2018
Pretty Piney | Ms P Designs USA | Creatin' in the Sticks
Freemotion by the River | Any Pattern
Tuesday September 11, 2018
Barbara Dieges | Upstairs Hobby Room
Quilt Art | UlaSewing / SzycieUli
Thursday September 13, 2018
Pumpkin Patch BC | Sew Incredibly Crazy
A Quilting Chick | Patchwork Breeze
Tuesday September 18, 2018
Just Let Me Quilt | Elizabeth Coughlin Designs | Quilt Fabrication
Renee's Quilting Addiction | Made By Marney
Thursday September 20, 2018
Clever Chameleon | Adventurous Applique and Quilting
Heleen Pinkster Quilt Design
Cynthia's Creating Ark | Seams To Be Sew
Tuesday September 25, 2018
Songbird Designs/Brenda's Blog | Powered By Quilting | Kissed Quilts
Happy Sewing Room | Sew Joy Creations
Thursday September 27, 2018
BobbininQuilts | Daydreams of Quilts | The Quilted Snail | Scrapdash
Tuesday, October 2, 2018
Words & Stitches | True Blue Quilts | Miss Loreen's Schoolhouse
Meanderings Along Lizard Creek | Creativeblonde
Thursday, October 4, 2018
Quilt In Piece | Jaded Spade Creations | Mountain Meadow Designs
Masterpiece Quilting | Pamela Quilts
Tuesday, October 9, 2018
Show and Tell Day
Words & Stitches | Upstairs Hobby Room | Powered By Quilting
Elizabeth Coughlin Designs
Clever Chameleon | Creatin' in the Sticks | Sew Joy Creations
The giveaway for my blog has been donated by Inspired LED and is a really handy LED sewing machine light. I don't know about you but I can do with all the extra light I can get. It gives a lovely bright workspace and really helps when sewing dark or hard to match fabrics. It's just awesome. Drop a comment below and enter the rafflecopter draw.
Inspired LED sewing machine light giveaway
A second fabulous giveaway running across the whole time of the bloghop is a copy of the quilt design software EQ8 (value 239.95). This version is a recent release and they have worked very hard to make the learning curve easier. What a fantastic prize! I use EQ8 all the time to create patterns and print rotary cutting instructions templates or foundation piecing patterns. It's such a useful piece of software to try out fabrics and colours, and create and share patterns.
Please note the rules for the giveaways, also found on Seams to be Sew. Drop a comment below and enter the rafflecopter draw. For my blog entries for this giveaway start on September the 4th and finishes on September 11th 2018. However, keep checking all the other blogs for more chances to enter.